About Us
Our parent company- Sun Sight Glasses Co., Ltd.
Sun Sight Glasses Co., Ltd., who has dedicated to excellence in the design and manufacture of sunglasses since 1983, is one of professional sport sunglasses and goggles manufacturers in Taiwan. In order to expand and upgrade our business and address international marketing strategies, Xiamen Sun Haven Optical Co., LTD. was established in 2005, carrying the same concept of "Quality First" as our philosophy.
In addition, Sun Sight opened an institute for new product development and design in Taiwan. Using computer technology for design and with over 10% of the revenue put back into design efforts we are driving forward to develop a wide variety of high-end sunglasses and sports glasses and ski goggles.
↑ Sun Sight Glasses Co., Ltd. office building in Taiwan
XIAMEN SUN HAVEN OPTICAL CO., LTD.
Founded in 2005, Sun Haven started to run the production in August 2007. Since then, we have grown into a global innovator and manufacturer of high quality sport sunglasses, multi-sport sunglasses,cycling sunglasses,motorcycling sunglasses,fishing sunglasses,golf sunglasses, water-sport sunglasses, safety sunglasses,lifestyle sunglasses, youth sunglasses, prescription sunglasses, prescription eyeglasses,ski goggles,motocross goggles, and safety goggles. We have been striving for developing professional sport sunglasses for sport fans in different fields, so that they can find all appropriate glasses here. Our quality can conform to international standards, such as ANSI Z80.3, ANSI Z87.1, ISO 12312-1, EN166, EN174, AS/NZS 1067.1,FDA etc.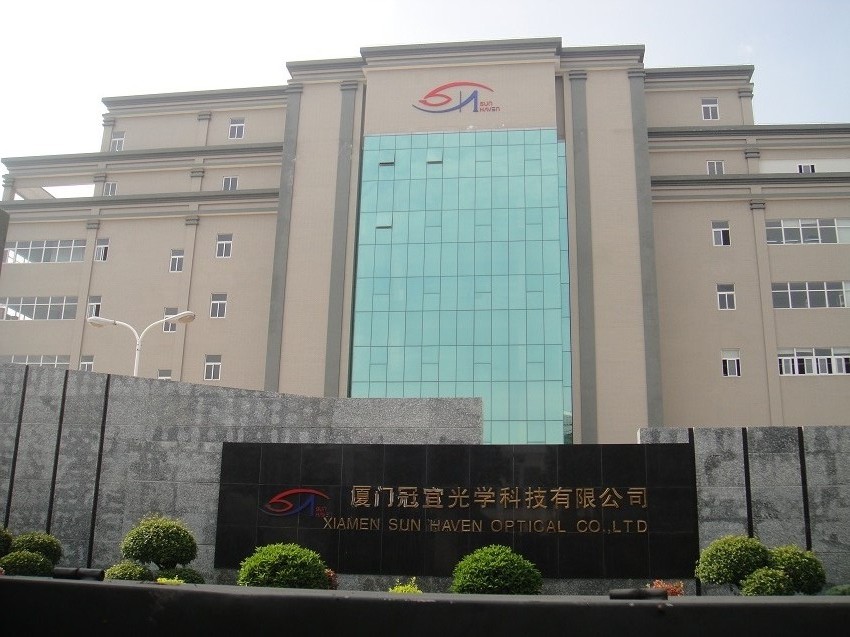 ↑ XIAMEN SUN HAVEN OPTICAL CO., LTD. office and factory building
Aiming on premium quality and high-powered design, we have our own designer teams and molding departments, as well as product inspection centers and testing labs, to ensure the comfort and safety of our products.

↑ SUN HAVEN internal laboratory helps us keep strictly quality control to meet all standards.
In order to enhance our cooperate practice, upgrade our products, and continue to improve on customer satisfaction, we have got the certificates of ISO 9001 (International Organization for Standardization), ISO 14001 (International Environmental Management System) and SA8000 (Social accountability international standards).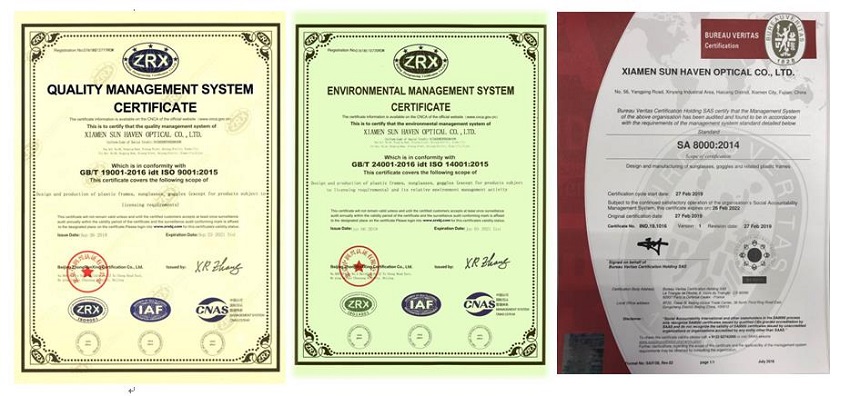 ↑ ISO 9001/ ISO 14001/ SA8000 certificates
We are in a constant state of change and improvement. If you are seeking for a partner who can help you with the OEM and ODM eyewear, you are more than welcome to contact us.